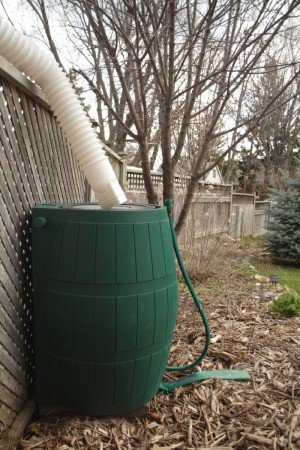 If you have a downspout on the side of your house or garage that directs water away from your house, you're potentially letting a big part of your water bill wash down the rain gutter. Just 1 inch of rain on a 1000 sq ft roof yields a whopping 62.3 gallons of water! While this water might not be fit for human consumption, reclaiming it for use on the yard and garden make good financial and environmental sense.
Materials Needed:
one 55-gallong or larger barrel
window screen
bungee cords
parts for an outdoor faucet
two o-rings
electrical nut
silicon caulking (optional)
plastic downspout (optional)
electric drill and an Exacto knife
small piece of garden hose
two concrete blocks
The total cost for this project is about $50 for materials (assuming you have the drill). This cost can be reduced considerably if you scour re-use centers or junkyards for used parts.
Instructions:
Start by finding yourself a 55-gallon or larger plastic barrel. Try to locate a food-grade barrel or one that has never been used. There are several companies that use plastic barrels and sell them or give them away when they are finished. Check with recycling centers, re-use or industrial material exchange centers or try calling companies direct. There are several companies on the web that sell them (including online auctions), but you can usually find them cheaper locally. Select one without a cover. You're going to make your own.
Once you have your barrel you need to fashion a cover for it. This is essential for keeping out mosquitoes, keeping wildlife safe and filtering out plant debris that washes off your roof when it rains. Make the cover by cutting a piece of window screen large enough to fit across the opening. Cut the screen so that it's at least 1 1/2 times bigger than the mouth of the barrel. Secure the screen to the top of the barrel with the bungee cords. Fit the cords tightly around the lip of the barrel so they hold the screen in place. If you want to, trim off any excess screen with a scissors. Caution: This cover is not designed to keep children out. Never let children play around the rain barrel unattended!
For dispensing water, drill a hole near the bottom of the barrel with an electric drill. This is where you will attach the faucet spigot. Drill a small hole and use an Exacto knife to gradually increase the size in order to fit the faucet. Widen it just to the point where the threaded end of the faucet can be twisted into the hole. Tip: If your faucet is too low to fit a bucket underneath, attach a small piece of garden hose on the end to dispense water more easily.
To seal the area with O-rings, place one on the outside, insert the spigot and place the other one on the inside. Use the electrical nut to secure the O-ring use for the interior. If desired, apply silicon caulking around the area to ensure a tight seal.
Place the concrete blocks side by side and use them to elevate the rain barrel off the ground. Or if you prefer, place the barrel on top of two circular stepping stones. This will not give you as great of water pressure, but it will make the barrel more inconspicuous.
Adjust your downspout to direct water into your rain barrel. If cutting it is not possible or it is hard to work with, purchase a plastic downspout instead.
If you want to try some variations on this design, consider adding a second hole near the top of the barrel for attaching an overflow hose (like the barrel pictured above). You can also add a second hole to the bottom and use a hose to attach a second barrel if you find you need to expand your collection system.
About The Author: Ellen Brown is our Green Living and Gardening Expert. Click here to ask Ellen a question! Ellen Brown is an environmental writer and photographer and the owner of Sustainable Media, an environmental media company that specializes in helping businesses and organizations promote eco-friendly products and services. Contact her on the web at http://www.sustainable-media.com
Ad
---
Feedback Forum
Feedback about this article is posted here. Want to contribute? Click above to post feedback.

By Frugal Sunnie [11]02/06/2012
Several of our friends have these barrels (called butts here in the UK) and they are very pleased with them. My husband and I are putting in four, one at each corner of the house.

I held off on the barrels in the US because I had asphalt shingles but our house here in the UK is roofed with slate.

I wondered back in the US, does having an asphalt roof make a difference in the safety of the water?

Because of empirical, anecdotal evidence from friends with asphalt roofing (that using run-off water from an asphalt roof seems to cause problems in their veg gardens, but not their landscape gardens), I decided against it because at the time all I had for landscape plants were xeriscape plants that didn't need supplemental water.

My big water use was in the veg patch, and because they said their vegetables were smaller, 'greyer' and tasted slightly bitter if they used asphalt roof run-off water, I decided against using a catchment system at all.

By Amanda [1]02/06/2012
You absolutely must install overflow capability to any home-made rain barrel. The purpose of your downspouts are to direct water away from your home exterior and away from your home foundation. If you install a rain barrel on a downspout that doesn't have overflow capability, if the barrel fills up completely the water is going to have to flow out of that barrel from the lid (top).

When that happens the water is no longer being directed away from your home and instead will settle along the side of your house which can cause you to have foundation issues in the future. The overflow should be large enough to handle large rain events and should have a hose attached to it to direct water away. Rain barrels are a wonderful way to manage storm water, help to protect the environment and can save you money.

However, you need to make sure you're installing the barrel properly and that your barrel has these necessary safety features. Other than that I found the article to be informative. An overflow shouldn't just be considered a variation. It is a necessity for the type of barrel you described constructing.

By Edwan10/25/2010
Great article! I am not very good with DIY projects and since I really wanted a rain barrel, I got one from EarthMinded ( www.earthminded.com ). I highly recommend it!

By Melissa M. [26]02/06/2009
You can put some garlic juice in the water to deter the mosquitos, also if put some vegetable oil ( just a couple tblspns.) in it it will suffocate any mosquito larvea, won't hurt the plants either.

By Karl Groves (Guest Post)08/01/2008
As Jim Parson posted on 05/05/2008, it is important to keep in mind that a good strong rain will fill a rain barrel FAST. You need some way to deal with the overflow.

By Todd V from Arizona (Guest Post)05/28/2008
Alex C, in response to your question about watering the lawn with the collected rainwater, you could try using a soaker hose instead of spraying the water. Here in the Arizona desert, we lose a significant portion of sprayed water to simple evaporation. A soaker hose is very direct and it ensures that your water will reach its intended destination. As long as the water source is higher than the soaker hose is, you will have no problem watering your lawn and/or garden with it.

By Alex C from another galaxy. (Guest Post)05/27/2008
How do you generate pressure to actually water a whole lawn? I saw some videos on this and when they turn on the spigot from the rain barrel, it looks like water barely comes out of the hose?

By nick deuhaus (Guest Post)05/06/2008
How well do these do during the summer in the central valley of California? or Nevada? or Southern California?

By Jim Larson (Guest Post)05/05/2008
I calculate that you would get 623 gallons of water from a one inch rainfall on a 1000 sq ft roof:
1000 sq ft
x 144 sq in per sq foot
x 1 inch of rain
= 144,000 cu in
/ 231 cu in/gallon
=6 23.3 gallons of water, so 1/10 of an inch will fill the barrel

jarleigh @ hotmail.com (remove spaces to reply)

By markw76 (Guest Post)05/05/2008
A scrap of galvanized fencing cut to fit over the barrel and secured with steel wire or strapping keeps the kids and animals out.

By Sue12/02/2007
Check out the downspout filter and downspout diverter for your rain barrel at www.aquabarrel.com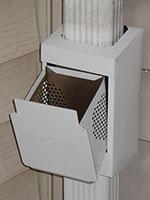 By Betty (Guest Post)07/29/2006
We use this method to collect water for the garden from the shed roof only we have 6 barrels that are filled when it rains using a syphon system from one barrel to the other. Our above-ground pool is close enough to the back of the house to use the house roof to add additional water (which is really good in the spring at start-up time). We have a piece of downspout coming off the end of the gutter attached to a metal pipe (to support it) over the pool. At the end of this we attach a sock or nylon stocking to filter the shingle particles before entering the pool. It works for us.

By (Guest Post)07/28/2006
We made a rain barrel about 2 weeks ago and LOVE watering with "free" water!

By Holly [367]07/28/2006
What do you do to keep from breeding mosquitos?

By (Guest Post)06/29/2006
thanks for sharing this info. We are about to buy own own property for the first time and will soon be homesteading, this info will come in handy.
thanks
brenda
Post Feedback
Add your voice to the conversation. Click here to share feedback.